New Moon In Sagittarius Rune (+ Protective Crystal) Horoscope Forecast, By Astrology Sun, Rising, & Star Zodiac Sign, December 6-9th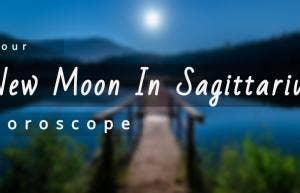 Your New Moon in Sagittarius LOVE Rune horoscope with
protective crystal is here for all zodiac signs in
astrology. This lunar event is the luckiest one for 2018! 
RELATED VIDEO: New Moon rune and tarot card reading for
all zodiac signs. 
RELATED: QUIZ:
Choose A Stone And Discover What It REALLY Reveals About
You
Today, the Moon is in the sign of Sagittarius and it conjuncts
the Sun in the same zodiac sign. Mercury is stations direct in
Sagittarius and even though it is still in the shadow-phase, the
relief begins to permeate our energy and positive energy flows
without resistance. 
Sun in Sagittarius
During the Sun in Sagittarius, all zodiac signs are encouraged
to be more charitable, giving and to see how personal strengths can
be used to serve others in addition to providing a meaningful
experience for the self. 
Sagittarius is a lucky zodiac sign by birth, thanks to its
ruling planet, Jupiter, who is home in the 9th sign for the next
year. Jupiter in Sagittarius with the Sun means that activities
that are performed by you that's visible to others have a
benevolent effect, and even if something unintended takes a turn
for the worse, the long term outcome works for the collective
higher good. 
Turquoise: December's Birthstone
RELATED: How
The Sun In Sagittarius Affects Each Zodiac Sign From November 23 –
December 21, 2018
Turquiose is thought to bring positive energy to the person who
wears it. This stone is associated with mental clarity, spiritual
awareness, luck and worn by shamans, pharaohs, and healing
practitioners. The benefits of this stone, along with tanzanite and
zircon is wisdom, protection, success and power. 
New Moon in Sagittarius
Tomorrow, December 7th, 2018 at 2:20 a.m, EST the Moon is exact
with the Sun in the sign of Sagittarius and becomes 'new'. In
astrology, this phase of the lunar cycle is a time to start new
projects that reap results that either complete or appear within
the next 2 weeks.
This New Moon is considered to be the luckiest Moon of them all
because it takes place within the planetary influence of Jupiter,
the planet of good luck and fortune. This is event is the first New
Moon to take place in Sagittarius since Jupiter returned home after
a 12 year transit of the zodiac.
During 2019, we will have an opportunity to experience three
more New Moons in Sagittarius, layering of downloaded information
from the sign of the Archer. The zodiac signs most empowered by
this lunar cycle include Gemini, Virgo, Sagittarius, and Pisces
born whose personal planets are between 11 and 19 degrees.
RELATED: How
The Full Moon In Gemini Affects Each Zodiac Sign From November
23-24, 2018
Mercury turns direct
Mercury retrograde is over and will not happen again until 2019.
Now that Mercury turns direct, things in the area of communication,
travel, and media can resume in a forward motion. Mercury direct
encourages the external mode of relating with others. Rather than
revisiting the past, you are encouraged to speak as if the future
is already here and to anticipate new ideas, refreshing insights
and contractual agreements that are fair.
Guided New Moon Meditation:
Neptune, Direct
The Moon enters a hard aspect with Neptune today and it
increases during the New Moon peak starting tomorrow through the
weekend. This means that it's important to weigh the cost of goal
and projects and to remain realistic when planning next steps. It
can be easy to lose sight of the big picture due to feeling
optimistic about the future.
There is symbolism on each rune and crystal that you can use
to provide insight to
your Sun sign's daily astrology when things are
unclear. Check out your
horoscope for Sun,
Moon, and rising zodiac sign this week's New Moon in
Sagittarius on December 7th. The energy of a New Moon lasts up to
2 weeks and this one begins to intensify December
6th-9th, 2018.
Here is your  rune horoscope and
astrology predictions to help reveal what's in store for your
zodiac sign.
ARIES (March 21 – April 19)
Rune: Irag – Growth / Moonstone
Aries, ​your rune for today and the New Moon in Sagittarius
is IRAG. IRAG is a rune of growth during life cycles and
fertility. This signals to pay attention to the growth that takes
place in the center of a life cycle and how life can turn from one
time period into another.
It's a signal to be adaptable and flexible with your mindset and
life choices. You can give birth to a new idea that becomes a
passion project. You can finally complete the business plan you
haven't been able to set your mind to do.
Pay attention to the minor details, such as an event as it can
prove to be beneficial to you. You have energy for the changes you
need to make and the seeds of thought are ripe for you to
harvest.
Analyze the properties of your protective stone, the moonstone.
Use it to enhance introspection and reflective activities. Think
about how you can see the changes, both positive and negative to
the time of your life right now.
RELATED: Characteristics
Of The Aries Zodiac Sign That Makes Them The Bosses Of
Astrology
TAURUS (April 20 – May 20)
Rune: Man – The Self/ Crystal: Crystal
Quartz
Taurus, ​your rune for today and the New Moon in
Sagittarius is MAN. When you think of MAN, think of your inner
self and how this merges with others when partnering or forming
friendships. You can grow closer t an old friend during this
time
Keywords: astrology, zodiac, horoscopes, Crystal, zodiac sign,
zodiac signs,
crystals,
aries
horoscope, virgo
horoscope, capricorn
horoscope, sagittarius
horoscope, libra
horoscope, taurus
horoscope, gemini
horoscope, cancer
horoscope, leo horoscope,
aquarius
horoscope, pisces
horoscope, scorpio
horoscope, runes, rune, aries tarot,
taurus
tarot, cancer tarot,
gemini
tarot, leo
tarot, libra tarot,
virgo
tarot, sagittarius
tarot, capricorn
tarot, aquarius tarot,
scorpio
tarot, pisces tarot,
aries rune
tarot, taurus rune
tarot, cancer rune
tarot, leo rune tarot,
libra rune
tarot, gemini rune
tarot, virgo rune
tarot, scorpio rune
tarot, sagittarius
rune tarot, capricorn rune
tarot, aquarius rune
tarot, pisces rune
tarot, aries
rune, taurus rune,
gemini
rune, cancer rune,
leo rune,
virgo rune,
libra rune,
scorpio
rune, sagittarius
rune, capricorn rune,
aquarius
rune, pisces rune,
rune
astrology, rune horoscope,
runescope,
protective
crystal, protective
crystals, rune advice,
healing
crystals, energy crystal,
horoscope
Source: FS – All – Astrology
New Moon In Sagittarius Rune (+ Protective Crystal) Horoscope Forecast, By Astrology Sun, Rising, & Star Zodiac Sign, December 6-9th